I have always, always wanted a dog. And I was in the process of searching for just the right dog when, in late December, someone posted this picture on Facebook, saying that this kitten had been thrown out the window of a moving car and desperately needed a home:
He was 2.5 pounds, had a broken tooth, reeked of cigarettes, and was swarming with fleas . . . how could we say no?
Despite the trauma he'd endured, this little kitten bonded to us instantly. He jumped into Matt's lap when we came to get him, followed us around, and wedged himself between us when we slept. Pretty dreamy. Plus, look how little he was!
We were smitten. But as he got older, and his fangs got sharper, his true colors began to emerge. He waged a war on our ankles, insisted on eating everything in sight, and freaked out if he wasn't in the constant company of humans. Sometimes I swear he is
Ignatius
reincarnate.
The food obsession thing began to get a little out of control. We were starting to worry this new little kitten of ours was going to eat us out of house & home. See exhibits A-E:
He's a big boy now (only 6 months, but I swear he's already the size of a full-grown cat!) and despite the fact that he:
chewed up my $80 computer charger
has been known to maul my face
ate my favorite eyeliner brush
howls like he's being murdered when he can see me out in the garden and isn't allowed outside
. . . despite all those things, we can't help but love him. I mean just look at him now:
(The vet says he tries to nurse on my neck cause he was taken from his mama too early)
Matt named him Neil Young, but these days we mostly call him Meal. ha! Jude--the toddler I babysit--thinks his name is "Meal Young," and it's just stuck.
We love you, Meal, even though you're a monster!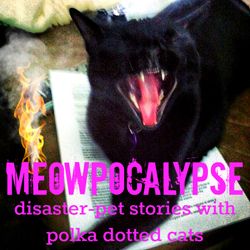 link up your pet story here!